Viera Florida golf enthusiasts know golf is a game of inches, make every inch count with our friendly knowledgeable professionals at Viera East Golf Club. With several professionals on staff, scheduling a lesson can be done at your convenience.
As a Professional seeking election to Class A Membership, David brings a certified and established background in the golf industry to his role as Head Golf Professional. Originally from Rochester, NY he has worked in the industry since 2014. His world class customer service and professionalism will continue to elevate the customer's experience at Viera East. His years of teaching experience with a focus on Ladies and Juniors continues to bring new golfers into the game, while helping experienced golfers find their swing.
Individual Lessons
1/2 hour: $40 / 1 hour: $60
Individual Lessons
1/2 hour: $40 / 1 hour: $60
Individual Lessons
1 hour: $40
Giving junior golfers the wonderful opportunity of golf.
Our goal at Viera East Golf Club is to provide junior golfers with the opportunity to learn rules, fundamentals, and develop skills in the game of golf while building character, integrity and sportsmanship. Golf is a sport that kids can play for their entire lives. Giving parents an opportunity to spend time outside with their kids is a priceless service we are happy to provide.
Kids' Club | Free Range Balls Every Month
Join our "Kids' Club" program and receive a FREE large bucket of range balls every month (year round). This program is available to all juniors 16 & under. To join our "Kids' Club" please fill out registration.
Kids play FREE at Viera East Golf Club!
Juniors 16 & under play for FREE when accompanied by a paying adult. Juniors 16 & under are welcome to play or ride along with a paying adult as long as there is space available and proper supervision is provided.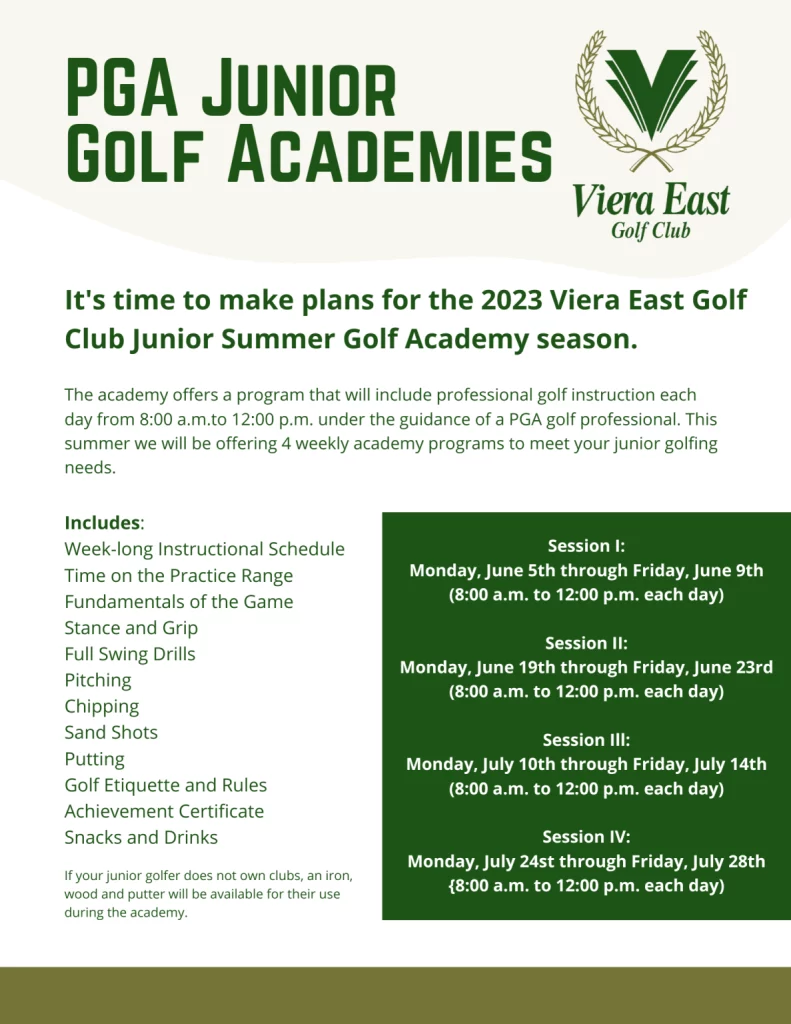 *This summer camp is conducted solely through Mike Hogan*